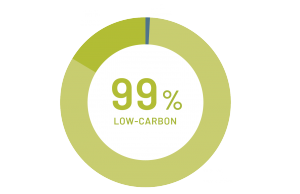 The GEN Group is committed to generating a reliable supply of electricity from sustainable and low-carbon sources. Nuclear and hydro are the two major electricity generation sources used by the GEN Group power plants.
→
Following our electricity trading and sales strategy, we are selling increasingly large amounts of electricity from our own sources thanks to our in-house knowledge and competences.
→
Nuclear energy is a key component in the country's low-carbon electricity supply, making up more than one-third of the country's overall electricity production. For this reason, the construction of a new nuclear build, JEK2, is one of the pivotal strategic development projects for the GEN Group.
→
News
GEN energija receives Energy Permit for JEK2 project
On 19 July 2021, GEN energija received an Energy Permit from the Ministry of Infrastructure for the JEK2 project. The receipt of that Permit represents an important milestone on the path to the final decision to increase nuclear production capacities in Slovenia. As previous studies of the justification of the project have shown, JEK2 is a crucial and feasible project for the future reliable supply of domestically produced electricity to Slovenia. The project facilitates an effective response to the challenges of the transition to green electricity and the achievement of the goal of climate neutrality by 2050.
More...