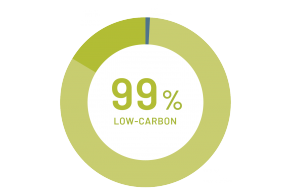 The GEN Group is committed to generating a reliable supply of electricity from sustainable and low-carbon sources. Nuclear and hydro are the two major electricity generation sources used by the GEN Group power plants.
→
Following our electricity trading and sales strategy, we are selling increasingly large amounts of electricity from our own sources thanks to our in-house knowledge and competences.
→
Nuclear energy is a key component in the country's low-carbon electricity supply, making up more than one-third of the country's overall electricity production. For this reason, the construction of a new nuclear build, JEK2, is one of the pivotal strategic development projects for the GEN Group.
→
News
Through the reliability of energy facilities, and based on its knowledge and experience, the GEN Group successfully managed the extreme conditions on the Sava River
Last weekend, one of the worst storms on record severely disrupted everyday life in Slovenia, affecting numerous families, public institutions and the economy. Rectifying the consequences of that natural disaster will require massive efforts for the foreseeable future in large parts of the country. The GEN Group, which performs activities that are fundamental for the functioning of the country through the production and supply of electricity, has been confronted with extreme conditions on the Sava River. After hydropower plants, with the exception of two on the upper course of the river, were gradually shut down on Friday, all power plants have been back in operation since Monday. The Krško Nuclear Power Plant (NEK) has been functioning stably and at full power at all times.
More...